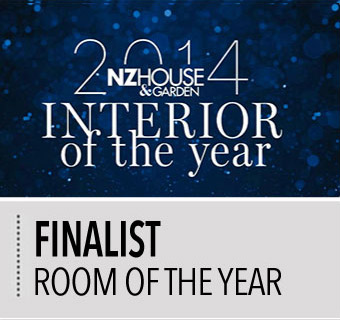 Sumptuous gold and silver
This classic Grey Lynn Villa had good bones with great original features that had been lost to time in a dark & dreary state.
When the new owners took possession I jumped at the opportunity to work with them to inject a warm and inviting colour scheme into their home.
An existing anaclyptia paper on the lower walls of the hall and living room was transformed with a soft silver metallic paint.
The upper walls of the living room were adorned in a beautiful japanese inspired paper in gold and silver tones, with a rich orange paint colour (Ochre 55) complementing the hall to create welcoming entrance for family and visitors.
The ornate tin ceilings in the living room and master bedroom were restored with a new coat of paint and warmth was added to the south facing living room replacing the old fireplace with a new gas fire and a contemporary surround. Custom furnishings and window dressings were selected for colour, size and texture. The owners added a lucite chandelier, coffee table and a rug.
The result – a warm and inviting environment to sink into the sofa, watch tv or relax with family and friends. A far cry from the dark cold room it had been previously.
The exterior colours of soft pale greens and greys were chosen to work with the landscaped gardens.