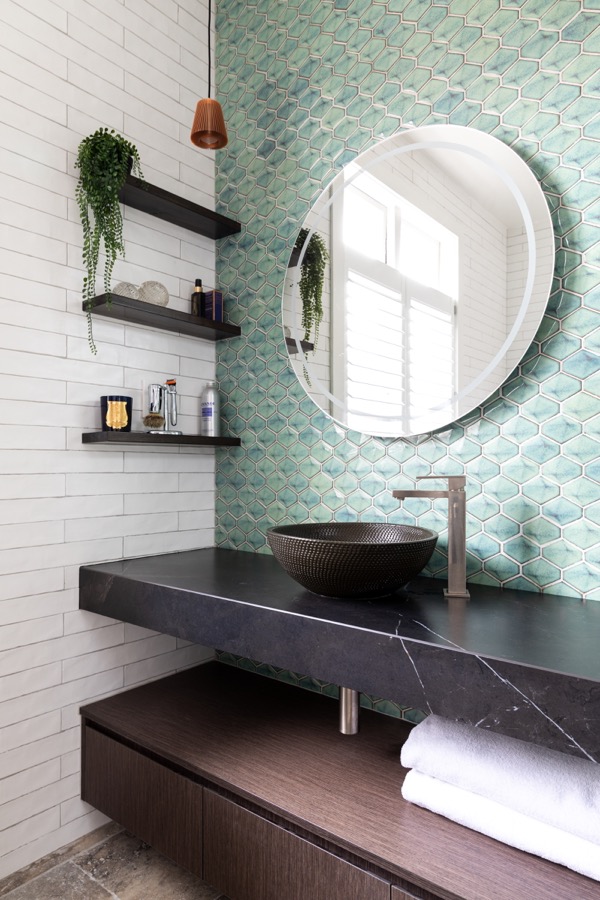 Post Categories:
Bathroom |
Flooring |
Bathroom Tile Schemes
---

Article by Helen Wilcock - Interior Designer
Posted in Design Spec Blog on
---
Before you renovate or complete building your bathroom consider the aesthetic impact that tiles will add.
With a vast array of tiles, stone and mosaics on the market, the choice is endless for colour, module and texture combinations.
When faced with the huge selection available it can be quite daunting to work out where to start. A myriad of designs can be achieved with a simple white wall tile. I will cover a few ideas in this blog.
The Humble White wall tile:
My soon to be renovated bathroom harks back to the early 1990's tiled in the standard white subway 200 x 100cm wall tile. There was a very limited choice of white tiles available then.
Fast forward to today's market, the white wall tile re-invented is now available in a range of sizes, textures, finishes and glazes.
A white wall tiled scheme is elegant, fresh and creates a light and bright bathroom. Where bathrooms are internal with no windows and you don't want a dark moody powder room then this scheme is a winner. Add an accent wall tile to give impact.
White wall tiles sizes vary considerably. A large tile works well in both small and large rooms. A long thin tile will add texture to your walls due to the grout lines.
Discuss with your tiler costs to install as a large tile is not as labour intensive to install as a smaller tile.
Consider your tile pattern:
Get creative with your tile pattern. Offset brick is a classic or stack them straight. Consider horizontal or vertical. Chevron is gaining popularity and makes a bold statement.
Mismatch the patterns to add interest.
Grout is important. A dark grey grout will enhance the pattern whilst a light grey grout will allow the tile to be the feature.
Floor tile:
With your wall in white tiles, bring colour into your bathroom via the floor tile. A dark grey tile adds contrast, or for a softer scheme consider earthy tones. The timber look plank tiles give more of an organic feel to the room when paired with white wall tiles. For a traditional scheme consider the encaustic tiles. These patterned tiles add a big wow factor and are on trend currently.
Combine your tiles:
Wanting more than a white walled bathroom? Mix up your tiles. Add an accent wall in a mosaic or run the floor tile up one wall.
---
This ensuite bathroom combines a white 65 x 394cm white tile with a 610 x 406 travertine stone tile and a green mosaic accent wall. The white tile has a matt textured surface whilst the mosaic is gloss. Both the white tile and the travertine are laid in a brick fashion.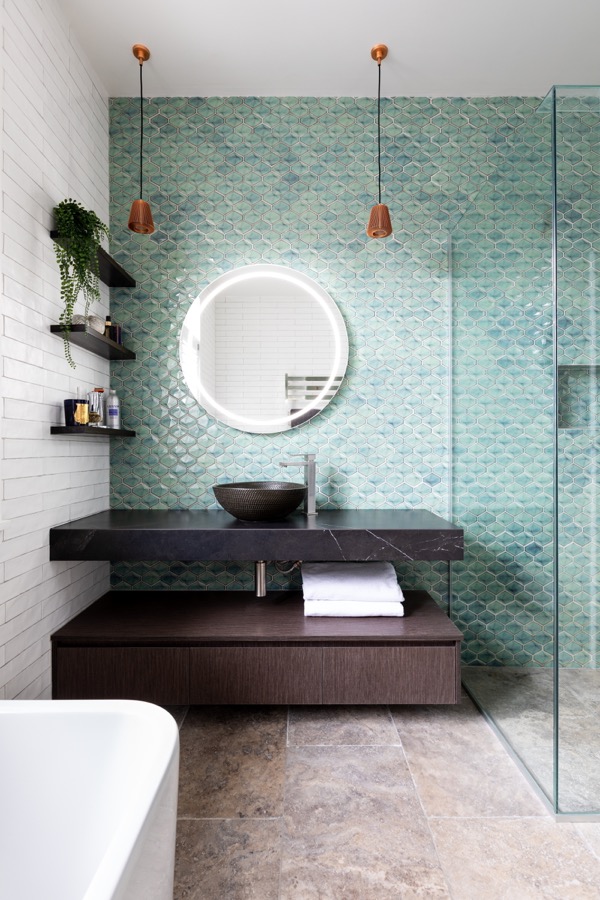 ---
A darker grey grout on the mosaic and white tile highlight the shapes of the tiles. The white tile calms the combination of the green mosaic and the honey coloured travertine.
---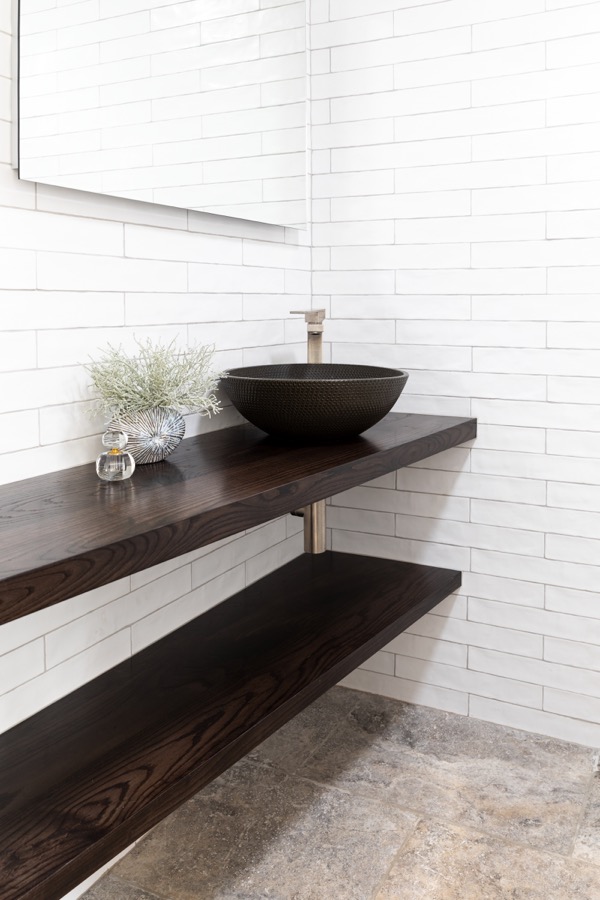 ---
In the same house the powder room walls are tiled in white and contrasted with the dark stained timber shelves.
---