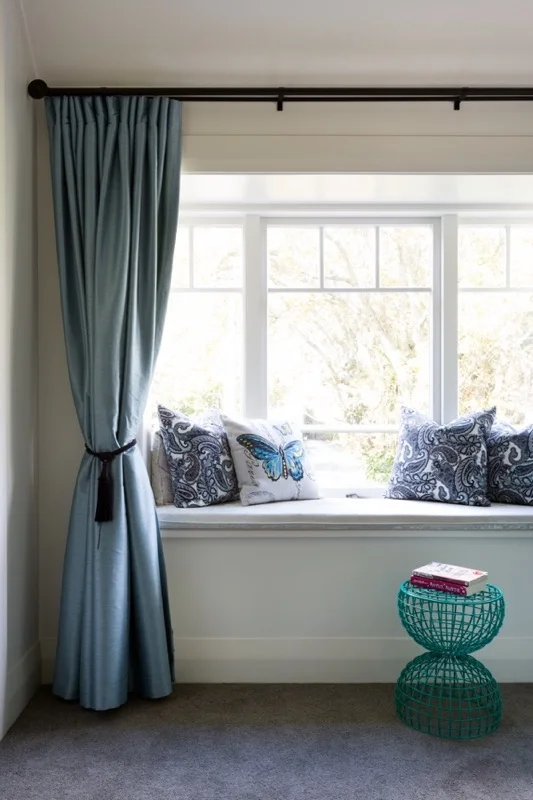 Post Categories:
Bathroom |
Bedroom |
Design Ideas |
Window Treatments |
Window dressings for your home interior design
---

Article by Helen Wilcock - Interior Designer
Posted in Design Spec Blog on
---
A wide range of window dressings exist in the marketplace today. From unlined sheers to lined drapes, roman blinds, venetian blind, shutters and roller blinds.
While ready-made options are available from selected home stores, professionally fitted, custom made blinds and drapes will always achieving the best results. With colour, texture and material composition selected for purpose and the design of the room.
Form and Function
Window dressings serve a variety of functions such as privacy, warmth and UV protection, and play a key role in bringing ambience to the room. Filtering and refracting external light and reflecting internal ambient light and colour.
Every space has a unique requirement. For example a lakeside house with a stunning view of the lake and no need for privacy was fitted with a gorgeous silky sheer. Drawn at night the light sparkled off the sheer and gave a cosy luxurious ambience to this large living room.
Combination of windows in one room
If the room has many windows and or doors of varying sizes then consider a combination of drapes and blinds. Blinds are suitable to the smaller windows whilst drapes are better suited to the larger windows or doors.
Installation:
The days of hanging the drape to just under the window sill are over. Drapes should go full length to the floor. Ideally the curtain rod or rail will be installed as close as possible to the ceiling. This full length drape draws the eye up and makes the room appear larger.
Custom Venetian blinds are fitted inside the window frames whilst Roman blinds are fitted outside the window frame
Pleat Styles:
There are around 7 standard pleats however I will cover 2 commonly used.
The "New York Pleat" is an inverted pleat and will use less fabric than the pencil pleat. I use this pleat often on lined drapes.
In the case you have an unlined sheer then a pencil pleat will maximise the volume of the sheer fabric which is necessary to avoid the flat sheet look.
Hardware:
There is myriad of rods and rails and fixings available. In addition are finials (fitted to the ends of rods) and curtain tie backs. All the hardware is available in a standard range of colours, and some suppliers will offer custom colours if required.
A richly decorated room and high ceilings could suit decorative finials or alternatively if you have a modern room with a minimalist feel then a smaller subtle finial fits with the modern room style.
Fabrics:
There is an endless choice of fabrics and linings available. Before you start shopping for fabrics consider the room and design. For example if it is a family room where you require a casual look, a linen fabric is ideal. For a formal or evening or TV lounge, a heavier weight fabric such as a velvet, or textured fabric. Pure silk should only be used in dark or south facing rooms. If you like a patterned fabric then consider the scale of the pattern to the size of the room. A bold large pattern in a small room can become quickly overwhelming.
I can assist you with the perfect window dressings for your home. I would meet with you on site to assess your requirements. Arrange for samples of fabrics and hardware and provide you with an obligation free quote.
Unlined Sheers with Pencil Pleat on metal rods with mushroom finials
Lined Drapes with New York Pleat and decorative finials.
Sheer with a coloured lining